"VELVET F1" SERIES
The "Velvet F1" series of varieties is intended especially for planting in containers such as flower boxes, hanging baskets or raised containers to emphasise their overhanging character. They create a massive cascade and bloom throughout the entire season. If cultivated correctly, they bloom on the whole surface of the plant. Thanks to the length of their overhanging shoots reaching 80–100 cm, the varieties of the "Velvet F1" group can compete with varieties grown from cuttings.
All "The Velvet F1" varieties can also be planted in flower beds where they grow together over a short period of time and create a flower carpet about 25 cm high. Excellent health, exuberant growth, blossoms of medium size and high seed germination are the great advantages of these varieties. Prices of seeds delivered are also attractive. The method of cultivation does not differ from other petunia groups. Plants have a creeping character from the very beginning. Proper nutrition has a positive influence on the length of the spreading cascade.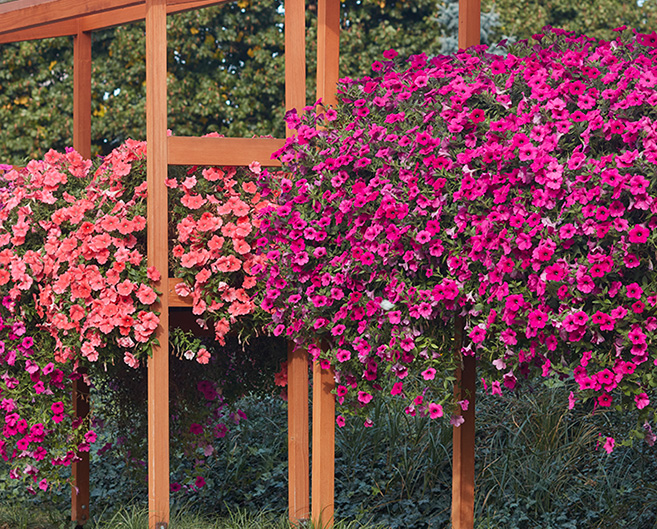 E315 Velvet F1 Purple
A time-proven and still very popular variety. Intense violet-purple blossoms with a dark throat, size 5.5–6 cm, plants create a cascade reaching 100 cm.
E495 Velvet F1 Salmon Shades
An attractive variety with interesting flowers in fine pastel shades of salmon, flower size is 7–8 cm. The spreading cascade can reach about 80 cm.
E314 Velvet F1 Rosy
The blossom is bright rose with a white throat. This colour contrast makes the variety even more attractive. Flower size is 6 to 7 cm. The plants are well-branched and bloom during the whole vegetation season. The variety creates an impressive cascade of about 80 cm.
11–15
weeks
overhang
80–100 cm
flower pots /
boxes
pellets