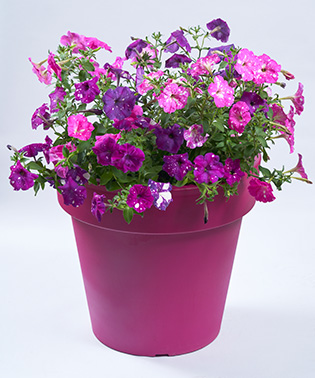 Original breeding by the Černý Seed Company

"DOT STAR F1" SERIES

A unique series of petunias with white dots and spots
A combination of vibrant and rich colours with white dots and spots on the petals gives the flowers an unprecedented and highly attractive appearance. The shape, frequency and intensity of the little white patterns on the petals can change during hot or changeable weather. This makes every flower a unique original.
Just like the other multiflora petunia from the Černý Seed Company, the Dot Star F1 series also boasts a high level of resilience to bad weather.
Plants grow to a height of 30–35 cm, branch well and bloom abundantly, with flowers that have a diameter of 6–7 cm. They are suitable for beds, planters and pots. They quickly regenerate after heavy rain and regain their impressive appearance. Available only as pellets.
E339 Dot Star F1 Dark Violet
dark violet with white dots and spots
11–13
weeks
6–7 cm
30–35 cm
flower pots /
beds
pellets
E340 Dot Star F1 Deep Pink – Improved
deep pink with white dots and spots, lower and more compact growth


E341 Dot Star F1 Red
bright red with white dots and spots
E342 Dot Star F1 Rose
rose with white dots and spots